Sainte-Maxime's new Promenade Seafront
Inauguration of phase 2
Following 2013's total revamping of the section between La Tour Carrée and Café Maxime, now it's the turn of Avenue Charles de Gaulle, from Société Générale to LCL, to get a new lease of life. Work began in January, and the resulting new look was inaugurated on June 20th.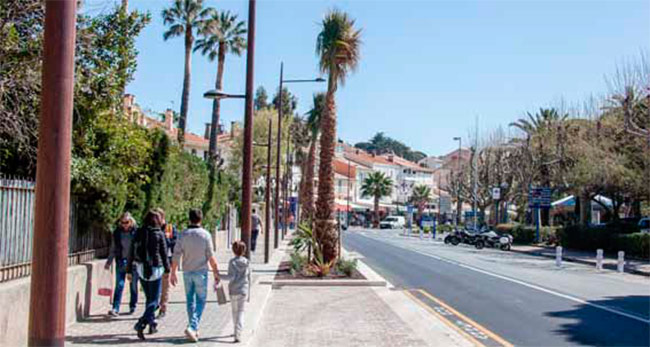 This second phase, inaugurated in the presence of some 300 people and numerous councillors, is part of a major project to redevelop the promenade and make the district as a whole more attractive, initiated by Mayor Vincent Morisse and his team, ably assisted by his deputy responsible for public works, Jean-Maurice Zorzi. Its purpose is to modernise the promenade and make it safe, so that pedestrians can enjoy it once again.
So goodbye poor lighting, uneven pavements, falls just waiting to happen and tired old plane trees and hello to a totally new-look section of the seafront promenade, with palm trees, flower tubs and lighting that really does light the way, as well as wider, cleaner pavements (an extra 1.4 metres), making it a much nicer place for pedestrians.
The last stage of this rejuvenating makeover will focus on two of Sainte-Maxime's main attractions, Avenue Jean Jaurès and Avenue George Clémenceau.
This time the objectives are fourfold:
– make the most of the architectural heritage and green spaces
– provide for the sites' many different activities and uses
– promote pedestrian and cyclist use of the avenues by making them safer
– organise traffic, parking, deliveries and other stoppages.
Work is due to be completed by April, 2017.
By Pauline Rabut.